This past year celebrated introductions to new spaces, innovative public programs, and remarkable solo and group moments for up-and-coming Minnesotan artists. With so many artists on the rise, I'd rather look forward to the year ahead by calling out emerging talents who show promise, authenticity, and sophistication. Keep your eyes peeled –these artists are up to nothing but good.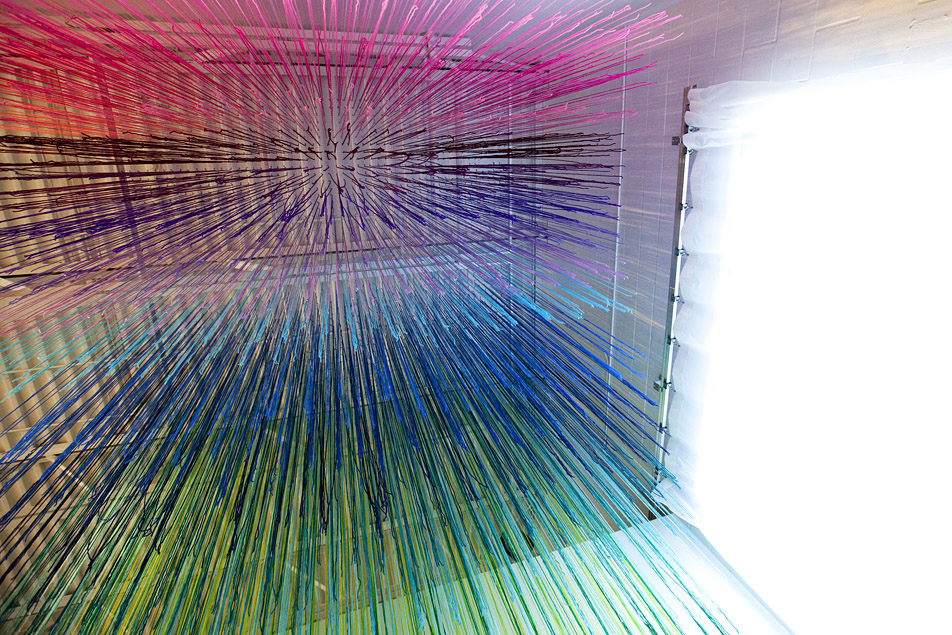 Eric Rieger
You may know Eric Rieger via his cozy, semiotic moniker, HOTTEA, whose typographic, temporary graffiti first appeared in rogue, public locations throughout the streets of Minneapolis and internationally. Rieger's practice has since been endorsed by contemporary art venues, including the Minneapolis Institute of Art, where he created glowing color-field canopies from thousands of dangling strings of yarn. Rieger's ability to pivot between form, discipline and artistic communities is a recipe for success in a broader contemporary practice. Rumor has it he has a painting show on the horizon and exhibitions soon to open in New York. My attention is fixed.
Luke Grothe
For Luke Grothe, glamour is an aesthetic. In his "endless dance-party," glitz, gold, fashion, lamé, and late nights are the subjects of his installations and images. In a heady, minimal, high-concept art landscape, Grothe's practice is like Andrew WK kicking a Solo Cup around the set of Lady Gaga's "Just Dance" video; let's keep this energy at a crescendo and hope there are more good times to come!
Lauren Thorson
A recent MFA graduate from the Minneapolis College of Art and Design–and clearly an excellent designer–Lauren Thorson's practice covers the gamut, from data visualization and web design to GIFs, motion graphics, and interactive work, often taking meteorological findings as her subject with beautiful, graphic outputs and attention to palette and presentation. This includes interactive events, such as her project Synthetic Unity for Northern Spark in 2011. Thorson is also part of the Interactive Visualization Lab team at the University of Minnesota, where she specializes in illustrating rendering algorithms for describing complex motion data.
Alan Gerlach
An up-and-coming student of Chris Larson, Gerlach moves with ease through interdisciplinary arenas including printmaking, sculpture, video and photography. His fall 2012 BFA exhibition tackled the rich history and mise en scéne of a dilapidated flour mill through urban exploration coupled with archival historical studies and showed an impressive comprehension of materials and subject far beyond an undergraduate level.
Katelyn Farstad
In what could be described, locally, as the best volunteer show ever, Katelyn Farstad received a solo exhibition at Midway Contemporary Art only two years after receiving her BFA. Her gritty sculptural painting conglomerates, haughty titling, and perverted artist statements stand out among her modest Minnesotan contemporaries. Discussion-worthy and easy to dismiss as youthful, Katelyn proved prolific enough to keep up with the hype. She recently caught the attention of major New York gallery Zach Feuer, where her Lee Press-on Nails, flypaper, spackled lattice, and crusty wicker frosted in acrylics merge seamlessly with Feuer's roster of dirty Q-tip and soy sauce packet formalism. Next up for the artist is an exhibition at Chicago's Julius Caesar Gallery. Am I curious as to what is in store for Farstad? Absolutely!
Lea Sorrentino
Self-described as "short, loud and angry," Lea Sorrentino is a vaguely sassy, whip-smart artist, recently graduating with a MFA from the Minneapolis College of Art and Design. Working in sculpture, installation and video, in addition to being a thoughtful writer, Sorrentino produces work calling attention to the constructs of American success and the emotional investments we place in possessions and entertainment. Also, anyone with John Rambo and Steve Buscemi tattoos is alright in my book.
Nate Burbeck
Catching a wave of popular circulation for his tumblr blog Fly Over Art and sister blogs, Beyond 9th Avenue and In The New Frontier, Nate Burbeck has initiated regional conversations with a broad and national audience, introducing new work from emerging artists in a non-hierarchical feed among contemporary stars like Nathan Hylden and museum favorites like Edward Hopper. New platforms for art sharing are trending–could Burbeck's blogs go the way of Contemporary Art Daily? Either way, we artists thank you, Nate Burbeck, for expanding our circle and increasing our SEO! He's an accomplished painter to boot, working in eerie social realism/contemporary regionalism.
Jesse Draxler
Jesse Draxler's collages are smart; the artist demonstrates a clear level of competence and purpose with editing and compositions. Working from pop-cultural and vintage imagery, his craft–call it X-acto expertise?–puts him at the forefront of other artists working with similar materials. His work borders on design–as in, it would make an awesome t-shirt–but the pieces also have strong footing as gallery-hanging art objects. What's most notable is Draxler's confidence with production and distribution. Aware of his audience and the context for work, the artist leverages the internet as a venue (and art form!) and reaches a broad audience which interacts with his work by reposting, commenting, and tagging.
Katy Vonk
Katy Vonk works with a diverse array of media, including digital videos, photography, environments, drawing, sculpture. Her work feels fresh and diverse, creating digital atmospheres and static planes that feel painterly, abstract, spastic, frantic, and flippant, but then at other times soothing, gorgeous and vapid. Layered guttural sounds wash over manipulated synthetic animations in moody vignettes. All together they're awesomely disturbing, visually compelling, and at times annoying.
The artist you haven't heard of.
Don't underestimate young blood. Emerging artists are growing up, graduating with gusto, relocating here from other states, creating their own venues and making better work, everyday. In 2013, I encourage artists and the arts-minded to make new acquaintances, and follow, support and collect work from that new and exciting talent.
Get Walker Reader in your inbox. Sign up to receive first word about our original videos, commissioned essays, curatorial perspectives, and artist interviews.